At Skaberlyst, our highest priority and mission is to teach you to create your own clothes from scratch.
Clothes that not only suit your figure, but your style and your clothing dreams. We guide you through the entire process of sewing, including making sewing patterns, as well as choosing fabric and design details that fit perfectly into your wardrobe. In short:
We help you make your sewing dreams come true.
Skaberlyst was founded in 2011 by women's tailor, Signe Eriksen. From the beginning, Skaberlyst has offered both live and online teaching in sewing and cutting. Today we offer comprehensive online courses, specialized weekend courses, sewing teams in Aarhus, and most recently, our online member club, Synoter Studio.
For the first few years, Signe ran Skaberlyst all alone, in true entrepreneurial fashion. After only a few years, applications for internships began flowing into the inbox, and now, Skaberlyst has been proud to host internships for textile communicators, pattern designers and clothing designers. We have also trained a textile and clothing assistant who completed her full training in 2020. 
In 2016, Josephine was hired as the first official Skaberlyst employee. She has since been joined by several beautiful women who together make up Team Skaberlyst and help to make everyday magic flow from our lovely sewing workshop in the centre of Aarhus.  
Professionally trained sewing enthusiasts
At Skaberlyst, we are professionally trained and passionate, and we focus on quality, sustainability, aesthetics, or, to put it simply, clothes with a good fit. We are curious and open to new approaches to sewing, while also understanding that, when it comes to quality craftsmanship, older methods that have lasted for centuries remain a foundation of the Skaberlyst expertise.
Our design team is trained in tailoring, pattern making, design and communication about textiles, so we are sure that all parts of the process of creating clothes are represented from the start. It results in tested, purposeful designs that you can achieve with sewing yourself.
We teach you to sew clothes for yourself that fit well AND feel comfortable. We do this through online courses, live workshops and our online membership club.
Our courses are structured in a way that teaches you the elements of the craft in a logical order. The course content mirrors an evolving path, giving you more details and techniques as your competence increases. Our students learn both very specific techniques and the important background knowledge of why the techniques work the way they do, and why we continue to use them.
Our goal for your sewing is that you become your own personal tailor.
. We empower you to choose your own fabrics, design details and extra touches that you can add to our sewing patterns and make pieces that are truly your own.
We use a blended learning style for our online courses, teaching you sewing through a mix of text, video, and photo instruction. By the time you complete a course, you'll be able to sew tailored and comfortable clothing without feeling overwhelmed by the process.
If you're a beginner at sewing, we will help you get off to a great start on your sewing journey. In fact, we show you all the nifty shortcuts, tools, and habits we wish someone had shown us when we started.
If you're just getting back into practice with sewing after a few years, there is so much information in our online courses that can get you feeling more comfortable and confident with the craft. 
The courses are thorough and comprehensive and hit many different skill levels. Our veteran seamstresses especially love our courses for the new techniques and modern tools they learn about, that differ from more traditional sewing methods and offer more options to play with their tailoring.
In addition to our courses, sewing classes and membership club, we also have a web shop where we sell high-quality sewing equipment. The products available through our web shop are the very same products we use in our sewing workshop. In the web shop, you can also buy our sewing patterns, which we publish under the name ELiQU Sewing.
Warning: There is a small side effect of being part of the Skaberlyst universe. Even if you are not already an enthusiast when you find your way in here, there is an imminent risk that you will end up just as passionate as the rest of us in a very short time.
Skaberlyst creates sewing courses for women who love to sew but aren't happy with uncomfortable clothing and badly-fitting designs.
We especially make courses for those looking to improve upon their sewing craft and add a level of professionalism to their home sewing practice. Skaberlyst is for those who dream of being able to accomplish something that rivals the work of a professional tailor and who do not mind putting in a serious effort along the way.
That being said, you don't have to have towering ambitions before you start learning to sew. But we've found that the students who get the most out of our courses also put the most in. Our goal is to support you in building a high level of sewing competence, so this won't be the best solution for those wanting a quick solution or short-term sewing study.
If, however, you love to immerse yourself in new knowledge and experiment with sewing, patterns and tailoring, then you have come to the right place.
I'm a man OR I want to sew men's clothing. Can I still take Skaberlyst courses?
Yes, you can!
The sewing techniques for men's and women's clothing are fairly similar, especially when you are a beginner. In our courses, you will learn all the techniques you will need to tailor and comfortably sew many types of clothing items. So, come and join us!
Why We Teach Sewing and Pattern making
For most people, there are two major reasons why you should start sewing clothes for yourself. The first is to get your ideal fit out of the clothes you purchase or make yourself. The second reason is to be able to create the designs that you dream of, that you can't find anywhere else.
At Skaberlyst, we teach you the techniques and give you the knowledge you need to create clothes that fit your figure and your personality perfectly.
Clothes that make you feel comfortable, confident, and expressive should not be hard to come by, but unfortunately, they are rare. Plus, there are so many different, often conflicting, expectations for women and our attire that one can become dizzy trying to "fit in" with them all.
So we do not do that here at Skaberlyst.
Here at Skaberlyst, you won't be told any strict rules during a lesson. We dictate neither dress lengths nor sleeve widths. We are much more concerned with what fits you and what suits you best, ensuring you have what you need to feel good in your clothes and to radiate as the best version of yourself.
Create everyday magic with your sewing machine
Clothes can so easily become superficial, uncomfortable, polluting items stripped of any personality or soul.
But we see clothing differently.
It's our greatest hope that we can encourage others to create clothes that bring little moments of joy, self-love, and comfort every day, and enhance life in ways that go beyond a great fit.
However, this creation process doesn't happen over night.
Our courses help you to improve your sewing through all steps of the journey, including the not-so-fun hiccup stages. But don't worry, there's an ocean of wisdom to be found in each mistake, and we enjoy guiding our students through these rough, yet important challenges.
Before you know it, sewing mistakes will turn into garment successes, and you'll be off creating everyday magic with a few pieces of fabric and some thread.
Passing on the passion
Our passion for sewing lies in the professionalism and quality of the finished clothes, as well as in the art of tailoring and the technical skill it takes to make clothes that fit the way they are supposed to.
Our Skaberlyst team loves beautiful clothes, gorgeous materials, and thoughtful details. We still get butterflies in the stomach over how a series of buttons are placed on a sleeve, or how a cut wraps around the figure and emphasizes its curves.
It fills us with joy when we turn a finished piece of clothing inside out, and see it is as beautiful and accomplished inside as it is outside. And it makes us proud to know that we created it ourselves.
That excitement, that passion, that is what we would like to pass on to you.
And that's what we hope to do through all our courses, blog posts, live videos and newsletters.
To give you the sewing skills you need to be able to create beautiful clothes that give you butterflies in your stomach and the pride and joy of being able to create the pieces you've always dreamed of wearing.
Learn To Sew in Aarhus and At Home
We are based in Aarhus – and at your own home.
Our lovely sewing workshop and course rooms are located at Nørrebrogade 18 B, 8000 Aarhus C.
We welcome you to join us in the studio for one of our sewing courses which we hold in the dedicated course rooms. The sewing workshop, where we work on a daily basis, and the course rooms are separate. In the course rooms, there is a height-adjustable table for each student, so you have your own good space for both pattern making and sewing.
It is also possible to pick up orders from the web shop at our Aarhus studio location.
If you prefer to learn sewing in the comfort of your own home, then are extensive online courses are available. You follow them at home from your living room, your kitchen, your greenhouse, or wherever you prefer to sew. All you have to do is turn on your computer or tablet, log in to your course, and you can start reading and watching videos from there. 
You can learn more about the different types of courses under Sewing Courses .
PLEASE NOTE! All sewing courses are in Danish. We are working on English translations.
Not sure if Skaberlyst is for you? 
Or do you just have a question or two?
Start by looking in our Q&A, where you will find answers to the most frequently asked questions (and also some that we don't get so often). If you do not find the answer to your question there, feel free to send us an email: kontakt@skaberlyst.dk
Begin Your Sewing Journey Today
If you have read all the way down to here, thank you so much for your time and interest! Now you have read about us and why Skaberlyst exists, but we are far more interested in what we can do for you.
If you're wondering how Skaberlyst can assist you along your sewing journey, check out all the ways we can support you:
On our dedicated blog, you can get an insight into how we teach our courses, as well as, read extra articles and watch videos that support course content. You can find the blog here << (PLEASE NOTE: the blog is in Danish. We are working on English translations that we will publish here < )
In our sewing courses, you get targeted and effective teaching in sewing and pattern construction at a professional level. Whether you're a beginner or experienced seamstress, the courses have much to offer. You will find the courses here << Please note: All online courses are in Danish. We are working on English translations.
In our membership club, Synoter Studio, you learn to make sewing patterns and how to adapt the clothes so that they fit perfectly into your wardrobe. You will find Synoter Studio here << Please note: Synoter Studio is in Danish. We are working on an English translation.
We look forward to providing you with many more tools so you can make your sewing dreams come true.
Signe and Team Skaberlyst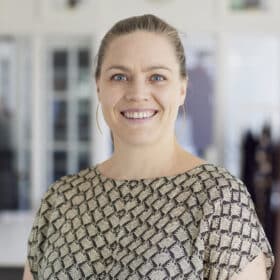 Signe
Eriksen
Boss-lady and Owner of Skaberlyst
Signe teaches fitting and patternmaking and she teaches our live advanced sewing classes. She is a prominent member of the design team behind the Synoter magazines and creates other themes in Synoter Studio, besides the magazines. It is Signe that you will mostly see pop up in our YouTube videos, Facebook groups and Skaberlyst blog.
Signe received her training at the Aarhus Tailoring School in 2004, and also took a Model Designer degree from TEKO in Herning in 2006 and a professional BA in Design & Business from VIA in Aarhus, 2013.
Previously, Signe has had her own tailoring business, been co-owner of a clothing store in Aarhus C and worked both permanently and freelance as a designer and seamstress in the fashion industry for companies such as Minimum, B-Young, Mille Rostock, Lundgren & Vindinge, By CRM and Vila.
Signe has also taught and given lectures at FOF, AOF and LOF. She was a co-founder of Sysiden, and was part of it until March 2016, and she co-authored the book, Sy Nederdele (Sewing skirts).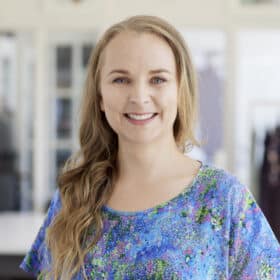 Josephine
Boelsmand
Teacher, Seamstress and Designer
Josephine teaches sewing in our live classes for beginners/intermediate sewing students, and leads our weekend courses in embroidery. She is also part of the design team behind the Synoter magazines, where she designs patterns and sews for the magazine.
Josephine is the one who tests what needs to be tested, and supports the team in maintaining the integrity of Skaberlyst's high-quality designs and sewing patterns.
Josephine is a trained textile communicator with Håndarbejdets Fremme (2014) and has a master's degree in Didactics, Material Culture, graduating in 2018. Before Josephine came to Skaberlyst, she worked as a teacher of Clothing Design at Egå Youth High School.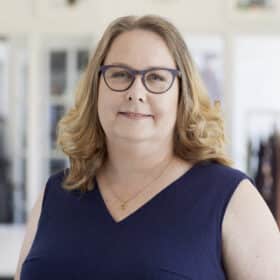 Ninna
le Fevre Lucas
Office Assistant and Web Shop Administrator 
When Ninna started as an Office Assistant at Skaberlyst, she had a bubbling dream of opening up a web shop. We already sold sewing equipment on live courses, and many students would ask to buy the materials we used in our courses. It quickly became obvious to our team that we wanted to help support Ninna's dream and put her in the position to lead our web shop. We opened the first edition of the web shop in 2019, and Ninna has kept it running smoothly ever since.
It is Ninna who makes sure that items are in stock and that the orders are packed and sent out to you. She is responsible for all the administrative and practical aspects of the web shop, and makes sure that the rest of us don't accumulate too much clutter in the studio.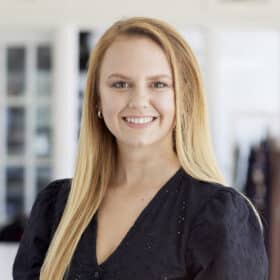 Blanka
Papp
Designer
Blanka is a prominent member of the design team behind the Synoter magazines, as she is the first of our staff to draft the designs that you find in them. She is the creative thinker who cultivates inspiration and sets the whole design process in motion. In addition to drawing the working sketches for our magazines, Blanka finds models, keeps track of photo shoots and makeup artists and styles the clothes for each magazine.
Blanka has a bachelor's degree in Fashion Design from VIA in 2020.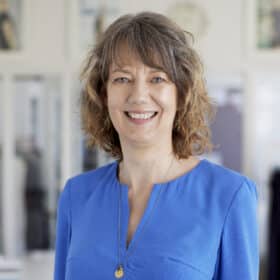 Bente
Weinreich
Customer Service Assistant
It is (primarily) Bente who responds when you write to kontakt@skaberlyst.dk or send us a message via the website. Bente is responsible for finding out what you want to know, and has collected the most frequently asked questions in the Q&A that you will find at the top of the page.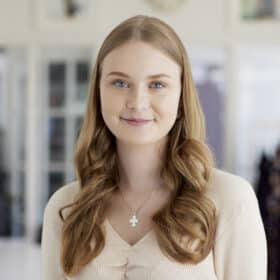 Cecilia
le Fevre Lucas
Cleaning assistant
Cecilia is our cleaning fairy. She is the one who makes sure that the sewing room is clean and tidy, so it is nice to come to the live sewing classes. Cecilia is the whirlwind that handles the practical tasks that the rest of us skip very easily in everyday life.